A Year of No Heat?!: How I Revived My Hair and Surprised Myself Along the Way
Ride with me on the journey to more success.
Picture this: Washington, DC. April. 2011. I am at the hair salon and, once again, have to cut my relaxed hair into a bob because of damage. I decide upon leaving the salon that I'm going natural after relaxing religiously since 12 years old. At this point, I'm about to turn 21. Enter anxiety.
The Internet is literally inundated with information, and I am thankful but overwhelmed. I have a few friends who are also transitioning and we are swapping advice like the local farmers market. Doubtful that my head shape can pull off a TWA (teeny weeny afro), I decide to wear straight weaves for the majority of my transition. Every time I wash my hair, I'm in awe of what's happening at the roots and equal parts excited for what's to come!
I try to keep my hair moisturized although I am, admittedly, a bit lazy in that area. I definitely grow impatient at several points during the transition because I don't think my hair is growing fast enough. I finally get my big chop and what do I do immediately after? Straighten my hair. I go back to mainly wearing straight weaves and experimenting with/straightening my hair in the interims.
Now fast forward to Fall 2012. My hair is long enough for me to be comfortable wearing mostly curly styles, but the heat damage from the weaves and blowouts is quite noticeable. I latch onto a chunky twistout and try to compensate with perm rods on my ends (major key). However, my twist outs never last more than a day. And God forbid it's too humid - then I make my coworkers and those close to me question all of my past, present and future decision-making because I look inept at life.
Fast forward again to Fall 2014. I am fed up with my raggedy ends and finally come to terms with the fact that I will never reach my full Pinterest curl porn glory if I don't address this situation. I pledge to myself that I will not put heat on my hair for a full year and truly engage with my roots and ends to understand their truth.
One of my besties had done this a couple years before (*cough* @alicington *cough*), but it was too hard for me to imagine doing it myself. Then another bestie/my roommate at the time did it the year before, and, at first, I was looking at her like "cute... for you" as well. But seeing them both go through it and how manageable it actually was helped me realize I could do it too! So I get my mind right, turn on the determination and start the journey after my Birthday blowout in May 2015 (I tried to start in January but decided to straighten my hair for my 25th).
Now, without further ado, this is how I have been getting through my year of no heat:
1) Protective styles!
You may be familiar with this step but it really is the most important. For my year of no heat, I mostly rocked buns, french braids, a curly weave, and box braids! (For descriptions on how she achieved the styles below, please view post on a computer or rotate your smartphone to widescreen view.)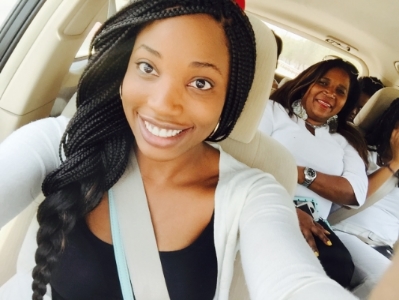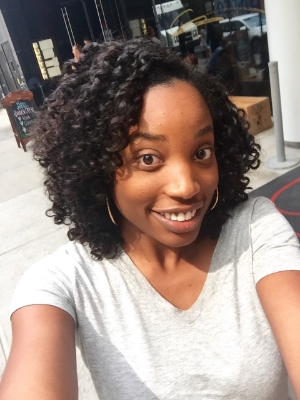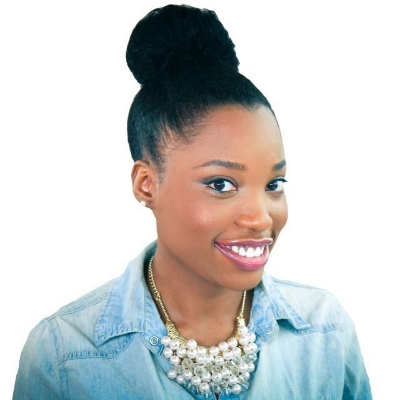 2) Snippity, Snip Snip
The hardest truth to come to terms with when going natural is that cutting your hair is not only a good thing, but a great thing. At the beginning of this no heat process, I got a trim to get the ball rolling and another before my weave install in August. I also dust the ends myself after every wash when the heat damage is most noticeable. To do this, I grab strands where the worst damage starts while the hair is still wet and cut at an angle. The section in the front that used to be my leave out was especially heat-damaged, so, at one point, I cut that whole area into a bang because I couldn't stand to look at it anymore. Note: cutting your hair yourself can be tricky if you aren't a professional so do what works for you!
I also recommend getting a curly cut during this process. I chose to wait until the end because I figured a professional would cut off all the heat damage, which would've felt like another big chop. As with my transition from relaxed to natural, my pace had to be akin to a toddler.
3) Wash Routine
During this process, I have tried to wash my hair and deep condition every 2 weeks. In all honesty, it has often ended up being closer to once a month, but I tried not to let it get past that. Wash day is a very personal ritual for each naturalista, so you should use this time to get to know what works best for you. I will share my routine, but keep in mind it may not be exactly right for you. Also, my process has gone through some variations, but this is where I'm at now:
Pre-poo: I use the Naptural85 detangling method and pre-poo with coconut oil and leave-in conditioner. While my hair is pre-pooing, I make the other mixes to be used later.

I add 3 parts water to one part apple cider vinegar (or 1/4 ACV and 3/4 water as I interpret it) to a spray bottle and shake shake shake

I mix 3 tablespoons of Greek yogurt (2% or whole), 1 egg, a half tablespoon coconut oil, a half tablespoon olive oil, and a half tablespoon honey in a bowl which is my rendition of this DIY Deep Conditioner, also from Naptural85. Then I stir and refrigerate until ready (keep the spoon in the bowl so you can stir again before you add to each section of hair)

I rinse my hair out in the shower while finger detangling (I barely ever use a comb or brush on my hair in general). I then separate the hair into 4 sections.

I go through each section with the ACV mix, a conditioner (haven't found the right one yet but Shea Moisture Yucca & Plantain Anti-Breakage Strengthening Conditioner is probably the one I use most often), and my homemade deep conditioning (DC) protein treatment. I continue finger detangling when rinsing out the ACV and first conditioner to avoid breakage and I am careful not to put the DC on my roots.

I DC for at least an hour, usually while doing other errands or watching Law and Order: SVU and The Golden Girls

I rinse out the DC while detangling a bit (but not much because the hair is more prone to breakage due to all the protein). Then, while the hair is still dripping wet, I practice the LOC method - liquid (water), then oil (coconut), then conditioner (leave-in).

Products for twist out: water & leave-in conditioner in spray bottle, organic coconut oil, Shea Moisture's Coconut & Hibiscus Co-wash Conditioning Cleanser, and Ecostyler Gel w/ olive oil
And there it is folks, 3 steps to The Land of Curls and Coconut Oil! As I write this, I'm in month 9 of 12 and am proud to say that the heat damage is almost no more! *In my best Kanye's Workout Plan voice* like now, my ends curl on their own when I do my twist out, and the twist outs last for a few days! Sometimes humidity thwarts my shine, but, even then, I can rock a puff or some other hairstyle with the liveliest of ends. My hair has also grown from shoulder length to armpit length, or about 2-3 inches.
A lot happens in a year so I had to figure out styling for work, special occasions, professional events, holidays (Halloween, NYE, Christmas, etc), a photoshoot, domestic and international travels, brunches, parties and even a carnival. I also ended up forcing my natural hair on others who may not be used to or accept it. But, even more, I ended up forcing myself to truly learn about, love and accept my hair and its versatility! My birthday in May will mark a year, and I plan to get a curly cut in celebration! Then, I'll set my sights on mastering the wash and go.
I initially decided to do this because I wanted my hair to be healthier and longer for when I wore it curly or straight. However, now that I've explored so many styles I love sans heat, I'm remembering my straight hair like: "look back at you for what?!" There is no lifelong remedy and, after putting in all this work to reach where I am now, I'm definitely nervous for when I straighten again, but I know it'll be all about moderation. If you do decide to straighten frequently afterwards, try to limit your flat iron touch-ups between salon visits to zero, as this is where the real damage happens.
Starting out and thinking it'll take a year may be overwhelming, so try starting out with 6 months or maybe even 3. You might find it isn't as difficult as you anticipated and you'll keep it going. Trust me, if I can do it with my love of laid edges and snatched weaves, you certainly can too! Only requirement: You must believe.
I would love to hear from you about your experience! Have you tried a year of no heat? If not, what do you think is stopping you? If so, what did you learn along the way? Drop a comment below!